Unfortunately, due to a technical issue, the SnowCam is not updating at this time.  Sorry for the inconvenience. Here is the most recent image.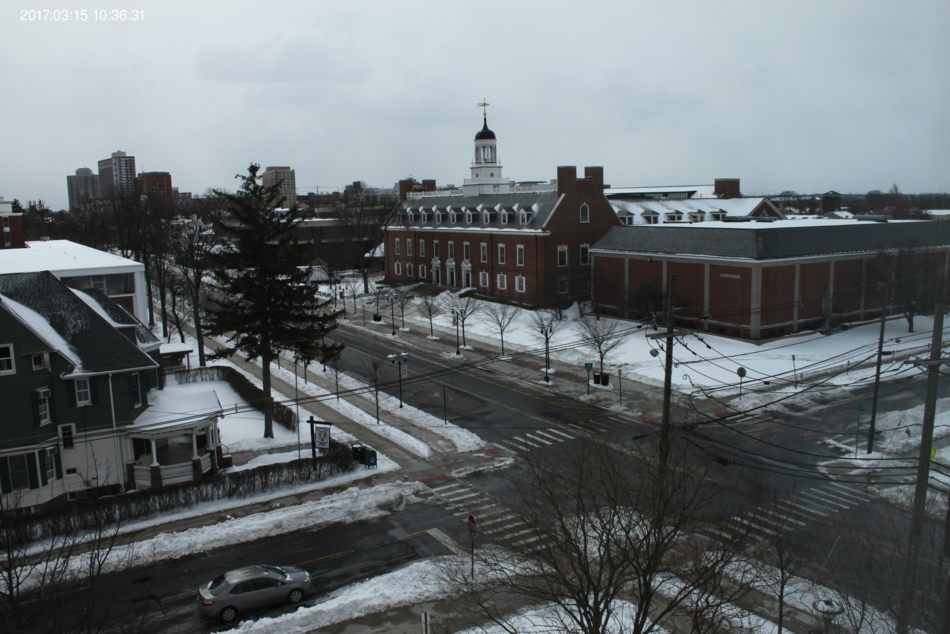 Current weather conditions for the SnowCam coverage area:
The SCC SnowCam captured images of a storm which hit the area between January 22-24, 2016.  Here is a 48-hour time-lapse of the storm's progression.
When a winter storm is imminent in Central New Jersey, this page hosts a live (within 2 minutes) image of the corner of College Avenue and Senior Street in New Brunswick, NJ as seen from the 4th floor of the Alexander Library.
Information about the snowcam setup is here.
During the winter storm of January 26-27, 2015, the camera recorded a total of 1,361 images over a 48-hour period. It captured images of the storm's progression, and of life on the campus during the storm – from bustling, to quiet and desolate, to signs of life as the snow melted away.
The storm turned out not to be severe as predicted, but still proved to be a good demo of a setup for both showing live conditions, and gain data for a time-lapse storm progression.
Here's a time lapse movie of the January 26-27, 2015 winter storm: